---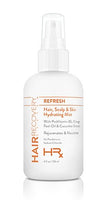 REFRESH Hair Scalp & Skin Hydrating Mist - 4oz
Hair Recovery Systems
With ProVitamin B5, Orange Peel Oil & Cucumber Extract
Rejuvenates & Nourishes
No Parabens or Sodium Chloride.
DESCRIPTION
This oil-free hydrating mist nourishes hair, face and skin. A rich formulation of ProVitamin B5 with Sea Kelp, Orange Peel Oil, Chamomile, Cucumber, Sage, Rosemary and Aloe soothes, heals and rejuvenates while providing antioxidant, anti-inflammatory and antibacterial benefits.
DIRECTIONS
Use any time of day for added hydration. Close eyes and spray over hair, face and body to refresh and hydrate.


KEY INGREDIENTS
Witch Hazel Leaf Water: A natural antioxidant and anti-inflammatory agent that helps treat acne and blemishes with it's astringent properties while being extremely gentle and non-drying to the skin.

Sodium Hyaluronate (Hyaluronic Acid): Special combination of high- and low-weight hyaluronic acids that expand once in the skin to provide excellent, long-lasting hydration.    A glycosaminoglycan capable of binding 1,800 times it's weight in water, when applied to the skin it forms a water-binding barrier allowing for increased moisture retention in the skin's intracellular matrix

Panthenol (Vitamin B5): An excellent humectant that adds intensive hydration to the skin.  Known to enhance the formation of new skin cells while providing healing and anti-inflammatory benefits.

Ascorbyl Glucoside: An incredibly stable form of water-soluble Vitamin C that exhibits high antioxidant activity, aids in the synthesis of collagen while inhibiting the formation of melanin and effectively protect and repairs the skin from free radical damage.

Macrocystis Pyrifera (Kelp) Extract: Extract of giant brown seaweed that is rich in vitamins and minerals that help heal sun damage and prevent fine lines and wrinkles.

Cucumis Sativus (Cucumber) Fruit Extract: A plant antioxidant with skin soothing and moisture binding properties.  

Salvia Officinalis (Sage) Extract: Antioxidant that helps rejuvenate and tone the skin.

Rosmarinus Officinalis (Rosemary) Leaf Extract & Oil: Wonderful skin antioxidant that helps stimulate circulation and promotes a more even skin tone.  Also has anti-inflammatory and antimicrobial properties.

Citrus Aurantium Dulcis (Orange) Peel Oil: Concentration of Vitamin C work as an antioxidant to protect and repair skin from UV radiation while bringing astringent and anti-inflammatory properties.  Also increases circulation and cell hydration.

Chamomilla Recutita (Matricaria/German Chamomile) Flower Extract: Chamomile extract that is used to calm and sooth the skin while adding antioxidant and anti-inflammatory properties. 

Allantoin: Plant extract, derived from comfrey leaves, that has anti-inflammatory, anti-irritant and soothing properties.

Aloe Barbadensis Leaf Juice: Wonderful water-binding agent for the skin due to it's polysaccharide and sterol content.  Penetrates the skin to supply moisture directly to the tissues for hydration boost.  Also shown to have anti-inflammatory, antioxidant and antibacterial properties.

Equisetum Hiemale (Horsetail) Extract: Firms and refreshes the skin while promoting healing.  RIch in minerals that help rebuild tissue while possessing antibacterial and anti-inflammatory properties.