---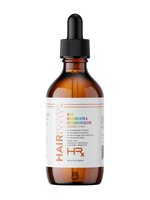 KIDS Hair Growth & Thickening Elixir ROSEMARY & MINT - 4oz
Hair Recovery Systems
✓ Strengthens Follicles
✓ Increases Circulation
✓ Anti-Fungal, Anti-Bacterial
✓ Nourishes Scalp
GREAT FOR:
ALOPECIA • THIN EDGES • 
SHEDDING • BREAKAGE
Guaranteed to supply your kids' hair and scalp with all necessary nutrients for growth, thickness and strength.  Also helps to relieve dry scalp and dandruff as well as improve circulation while helping to fight bacterial and fungal problems.
INSTRUCTIONS:
(ages 3-6): Use daily.  To maximize the effectiveness, apply morning and night. OR/AND do a weekly treatment by lightly dampening hair with water and apply this Thickening Elixir prior to shampooing. Let it sit for at least 30 minutes or longer. Rinse, shampoo and condition with shampoo and conditioner of choice.
WARNING:  Please always do a patch test to ensure no allergies exist to this product. 
ORGANIC INGREDIENTS:
(ages 3-6): Organic Castor Oil, Grapeseed Oil, Organic Coconut Oil, Peanut Oil, Organic Neem Oil, Vitamin E, and the following top graded essential oils: Chamomile, Lavender, Peppermint, Cedarwood, Tea Tree, Bergamot, Rosemary, Oregano, and Geranium.
No Parabens, No Silicones, No Mineral Oil, No Fragrances