---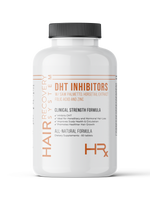 DHT Inhibitors
Hair Recovery Systems
w/ Saw Palmetto, Horsetail Extract, Folic Acid and Zinc 
CLINICAL STRENGTH FORMULA
✓Inhibits DHT
✓Ideal for Hereditary and Hormonal Hair Loss
✓Improves Scalp Health & Circulation
✓Promotes Healthier Hair Growth
ALL-NATURAL FORMULA
Dietary Supplements • 60 Capsules
---------------------------------------------------------------------
DermaStim DHT Inhibitors help to naturally block or inhibit DHT using Horsetail Extract, Folic Acid, Zinc, Vitamin B, Saw Palmetto, Nettle and much more!  Our blend of herbs, vitamins, and minerals has been used to treat hereditary hair loss by helping slow the conversion of testosterone to DHT.  This complex will also improve the sheen and texture of your hair as well as strengthen your hair and nails.
Supplement Facts
Serving Size: 2 Capsules
Servings Per Container: 60
Amount Per Serving                                         %DV
Zinc (as Zinc Oxide)                                         10mg
DHT Proprietary Blend                                     2081mg                                    **
Saw Palmetto
Folic Acid
Biotin
Vitamin B-6 (pyridoxine hcl)
Copper
Pantothenic Acid (d-cal. Panththenate)
Catalase                                                              5000 IU
Horsetail (8% extract)
L-Tyrosine
Nettle Root Extract
Chlorophyll (2 % extract from chlorella)
Fo-Ti Powder
Barley Grass Juice Powder
Plant Sterols
PABA (para-Aminobenzoic Acid)
** Daily Value (DV) Not Established
Suggested Use:  As a dietary supplement, take (2) capsules a day. One in the morning with a meal and one in the evening with a meal. Do not exceed (2) tablets a day.  FOR BEST RESULTS: Use consistently for a minimum of 4 – 6 months
*Contains No Yeast, Gluten, Wheat, Sugar, Artificial Colors, Starch, Flavors, or Preservatives
Warning:  KEEP OUT OF REACH OF CHILDREN.  NOT FOR USE IN WOMEN WHO ARE PREGNANT. DO NOT USE IF SAFETY SEAL IS BROKEN OR REMOVED.
These statements have not been evaluated by the Food and Drug Administration.  This product is not intended to diagnose, treat, cure or prevent any disease.