---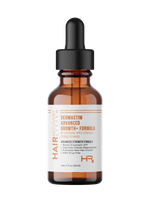 DermaStim Advanced Growth+ Formula
Hair Recovery Systems
With STIMUCAP, Apple Stem Cells & Capsicum Extract
This unique advanced growth formula is minoxidil free and will help to stimulate growth while controlling hair loss by increasing the production of hair growth factors.
DIRECTIONS
Apply approximately 15 drops once or twice per day, depending upon need and area to be covered. Massage using fingertips in a rotating motion for approximately 2 minutes.
KEY INGREDIENTS
STIMUCAP - A proprietary and potent antioxidant and inhibitor of free radicals that has been shown to reduce shedding and increase tolerance to hair pull.

Saw Palmetto - Rich in fatty acids and plant sterols. Prevents conversion of DHT naturally.

Chamomile Extract - Contains a high level of disease-fighting antioxidants like terpenoids and flavonoids.. Promotes hair health and fights a dry, itchy scalp.

Apple Stem Cells - Promotes hair growth by stimulating the dormant hair follicles and cell regeneration.

Capsicum Extract - Improves circulation of blood in our scalp and thus stimulate hair growth , Protects the follicles and controls hair loss.

Linearis Extract (Rooibos) -Has antioxidant, anti-inflammatory, and free-radical scavenging properties.

Helps protect the skin and hair against oxidative stress. through its natural antioxidants, flavonoids, and phenolic acids.